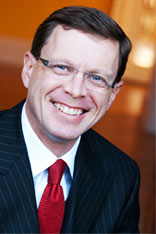 Professor Peter Brownson studied medicine at Liverpool University and qualified as a doctor in 1986. He was elected a 'Fellow of the Royal College of Surgeons of Edinburgh' in 1991, after which he undertook a period of orthopaedic research at Nottingham University. This research involved impact biomechanics as applied to aircraft passenger safety.
It culminated in the submission of his doctoral thesis and the award of an MD. The research also resulted in him being awarded an Honorarium in the Syme Professorship at the Royal College of Surgeons of Edinburgh and the crash brace position proposed, was subsequently, adopted by the Civil Aviation Authority, for use on all passenger aircraft.
Professor Brownson continued his orthopaedic training in Nottingham, during which time he acquired extensive experience in trauma surgery working at the Queens Medical Centre (one of the busiest trauma hospitals in Europe with a worldwide reputation as a Centre of Excellence for trauma). At the end of his training, he developed a particular interest in shoulder and elbow surgery and in order to develop his skills in this area, he obtained an appointment as the Shoulder Fellow in the Nottingham Shoulder and Elbow Unit. The Unit is run under the direction of Professor WA Wallace and during this time he acquired specialist experience in all aspects of shoulder and elbow surgery.
After completing his orthopaedic training in Nottingham, Professor Brownson was appointed as a Consultant Surgeon in Liverpool with a specialist interest in shoulder and elbow surgery. His initial appointment was at the University Hospital Aintree but subsequently his practice moved to the Royal Liverpool Hospital where he has, with his colleagues, worked to develop the Liverpool Upper Limb Unit. The unit has achieved an international reputation as a Centre for Excellence in the field of shoulder and elbow surgery and particularly with regards to arthroscopic (keyhole) surgery. His technical skills are highly regarded and as a consequence of this he is regularly asked to carry out live surgical demonstrations of advanced arthroscopic shoulder surgery techniques. Within the last few years, he has carried out such demonstrations on shoulder courses in Annecy (France), Naples (Italy), Reading, Manchester and Exeter.
He continues to be actively involved in upper limb research and a selected list of Mr. Brownson's publications is provided below. His most recent publication was on accelerated rehabilitation following Bankart repair in professional footballers. This was a personal series of 34 elite footballers treated by Professor Brownson following a shoulder dislocation.
Recently, Professor Brownson has co-authored a series of BESS Care Pathways for the British Elbow and Shoulder Society. These pathways cover a range of common shoulder and elbow conditions and are based on up to date expert reviews of the medical literature and they provide a guide as to what might be considered an optimum management plan for common shoulder conditions including Subacromial Shoulder Pain, Traumatic Anterior Shoulder instability, Frozen Shoulder and Glenohumeral (shoulder) Osteoarthritis. The pathways can be located by clicking here.
Finally, after serving on the Council of the the British Elbow and Shoulder Society for a number of years, in 2015, Professor Brownson was elected by the members as President Elect of the society and became President in 2017. This is a great honour for Professor Brownson as the Society is the largest subspeciality society in the British Orthopaedic Association with over 600 members including both surgeons and physiotherapists.

Download Publications and Papers produced by Mr Peter Brownson

Connect with Mr Brownson on LinkedIn.